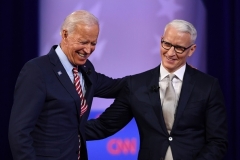 (CNSNews.com) - A nurse told Democrat Joe Biden Thursday night she knows people who refuse to look for jobs because they're making more money by collecting enhanced unemployment benefits. "What is your plan to get Americans back to work and off the government payroll?" she asked Biden at a CNN-hosted town hall:
Biden told her he wouldn't "bore" her with "the details" of his plan, but he said he'd send her "the material." Then he talked about people in financial distress and COVID, which had nothing to do the nurse's question.
Here is his full response to the question about getting Americans back to work:
First of all, I have a plan to deal with the need for additional health care workers and pay them a wage that is a living wage that's real. So they don't have to live hand to mouth. For real.

I won't bore you with the details, but I'll -- if I get your name, we'll send you the material, number one.

Number two, the fact is, there are 20 million people right now, many of them in Scranton and Wilkes Barre and around the region, who in fact are worried whether they'll be able pay their mortgage payment next month. Whether they're going to lose their house. There are tens of thousands of people who are going to lose their apartments and be out in the streets.

The president has postponed the ability -- the requirement they have to pay, but guess what? Next quarter, they have to make up for whatever they got this quarter in terms of free rent, quote unquote, not having to pay. And so it makes no sense to do what the president is doing. People can't make that up.

We should -- as long as the COVID is going on at the rampant rate it is, and by the way, you know better than I do, we're talking about roughly 36,000 new cases a day and close to a thousand cases a day, average.

You know, and here we are  on -- yesterday 1,200 deaths in the United States. All of Canada had nine. Last Friday, we had a thousand deaths. All of Canada had zero deaths. This president is doing it all wrong. We need to make a fundamental change in the way we're moving.

And by the way, if you're a nurse, you're taking a shot, you're taking a chance. You really are. And your husband -- you know, growing up in Scranton and Claymont, Delaware, I grew up and there were three things all my friends became -- a cop, a firefighter or a priest. I wasn't qualified for any of them.

But all kidding aside, they deserve, when they pin on that shield in the morning, they deserve to be able to go home at night, safely, period. There's no exceptions.
Notably, host Anderson Cooper did not steer Biden back to the nurse's question. Instead, he called on another member of the audience.
Biden did something similar with the next questioner, who asked Biden about his plan to "stand up for us health care workers."
Biden talked about raising the minimum wage, explained why he views the race as "a campaign between Scranton and Park Avenue," then told the man also named Joe: " So, again, I won't take the time now, but Joe, if you -- if I can get your address, let me get to you. Go to JoeBiden.com and you'll see what I talk about needing to be done with regard to health care workers."