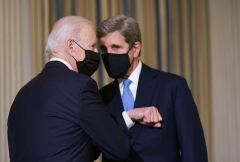 (CNSNews.com) - "Today is 'Climate Day' at the White House," President Joe Biden announced on Wednesday, as he promised to solve many of the nation's problems by "leading the world in a clean energy future."
"In my view, we've already waited too long to deal with this climate crisis, and we can't wait any longer. We see it with our own eyes, we feel it, we know it in our bones, and it's time to act," Biden said.
Biden said more Americans -- "Democrat, Republican, independent" -- agree on "doing something about it."
"That's why I'm signing today an executive order to supercharge our administration's ambitious plan to confront the existential threat of climate change. And it is an existential threat."
As evidence, Biden pointed to wildfires out West, "more intense and powerful hurricanes and tropical storms," "historic floods," and "severe droughts," all of which have plagued the United States throughout our history, long before Biden and other leftists floated the notion that humans are changing the climate by relying on fossil fuels.
Biden asserted that "many climate and health calamities are colliding all at once."
"It's not just the pandemic that keeps people inside; it's poor air quality. Multiple studies have shown that air pollution is associated with an increased risk of death from COVID-19. And just like we need a unified national response to COVID-19, we desperately need a unified national response to the climate crisis, because there is a climate crisis."
Biden said when he thinks of climate change, he thinks of jobs. His goal is to move the United States to a "100-percent carbon-pollution-free electric sector by 2035," creating "millions of good-paying union jobs" in the process.
Addressing the climate crisis will also alleviate the "racial wealth gap" by boosting home ownership, Biden said:
"You know, we are also -- we're going to build 1.5 million new energy-efficient homes and public housing units that are going to benefit communities three times over: one, by alleviating the affordable housing crisis; two, by increasing energy efficiency; and, three, by reducing the racial wealth gap linked to home ownership."
Biden said this is a time to "be bold," even if that means the loss of good paying jobs in places that depend on coal, oil, gas and power plants. Biden promised to "revitalize" those communities:
"We have to start by creating new, good-paying jobs, capping those abandoned wells, reclaiming mines, turning old brownfield sites into new hubs of economic growth, creating new, good-paying jobs in those communities where those workers live because they helped build this country.
"We're never going to forget the men and women who dug the coal and built the nation. We're going to do right by them and make sure they have opportunities to keep building the nation and their own communities and getting paid well for it."
Biden said his administration will not ban fracking. "We'll protect jobs and grow jobs, including through stronger standards, like controls from methane leaks, and union workers...willing to install the changes."
One of the executive orders signed by Biden establishes a "White House Office of Domestic Climate Policy," to be led by former EPA Director Gina McCarthy. McCarthy will chair a National Climate Task Force, made up of Biden Cabinet members, "to deliver a whole-of-government approach to the climate crisis," Biden said.
One of the executive orders halts new oil and gas leases on public lands.  "We're going to review and reset the oil and gas leasing program," Biden said.
Biden said he will ask Congress to eliminate fossil fuel subsidies, investing the money instead in "wind, solar, and carbon capture."
Biden is establishing a "new, modern-day Civilian Climate Corps...to heal our public lands and make us less vulnerable to wildfires and floods."
"'Look, this executive order I'm signing today also makes it official that climate change will be at the center of our national security and foreign policy," he said.
"With this executive order, environmental justice will be at the center of all we do, addressing the disproportionate health and environmental and economic impacts on communities of color -- so-called "fenceline communities" -- especially those communities -- brown, black, Native American, poor whites. It's hard -- the hard-hit areas like Cancer Alley…in Louisiana, or the Route 9 corridor in the State of Delaware.
"That's why we're going to work to make sure that they receive 40 percent of the benefits of key federal investments in clean energy, clean water, and wastewater infrastructure. Lifting up these communities makes us all stronger as a nation and increases the health of everybody."
At the end of his speech, Biden summarized, saying his executive action is "about jobs -- good-paying union jobs. It's about workers building our economy back better than before. It's a whole-of-government approach to put climate change at the center of our domestic, national security, and foreign policy. It's advancing conservation; revitalizing communities and cities and…on the farmlands; and securing environmental justice."