(CNS News) -- After much public outcry, the U.S. Navy on Tuesday reversed its decision to stop contracting with civilian Catholic priests who provide Masses and ministry on several Naval bases in the San Diego area, a decision that was praised by Catholic officials and President Donald Trump. 
"Catholics in the Navy and everywhere in this country rejoice in the decision by the U.S. Navy to reconsider closing the thriving Catholic programs at naval stations in California," said the Most Rev. Timothy Broglio, Archbishop for the Military Services, USA, in a Sept. 9 press release. 
In a Sept. 9 tweet, President Trump said, "The United States Navy, or the Department of Defense, will NOT be cancelling its contract with Catholic Priests who serve our men and women in the Armed Forces so well, and with such great compassion & skill. This will no longer be even a point of discussion!"
On Saturday, Sept. 5, a spokesman for Navy Region Southwest, Brian O'Rourke, told the San Diego Union Tribune that the Navy was ending the Catholic Masses on bases as a cost-cutting measure -- the Navy had been paying Catholic priests to minister on the bases because there are not enough active-duty priests available. 
"The Navy's religious ministries priority is reaching and ministering to our largest demographic — active duty Sailors and Marines in the 18-25 year-old range," said O'Rourke. "To meet that mission, the Navy has had to make the difficult decision to discontinue most contracted ministry services."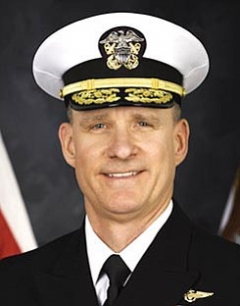 Vice Adm. Yancey Lindsey, the commander of Naval Installations Command, said, "We have a responsibility to use our limited resources wisely in meeting the needs of our personnel. Therefore, we will reduce redundancies and capture efficiencies by realigning resources."
Protestant services would continue on the bases because there apparently are enough active-duty Protestant ministers. The bases are Naval Base Coronado, Naval Support Activity (NSA) Monterey, and Naval Base Ventura County.
Following that announcement, many Catholics and other affected parties complained.
A priest who served Catholics at Naval Base Coronado and North Island Naval Air Station told The Union-Tribune that this was a First Amendment loss for service members. 
"One issue is discrimination [and] another is the violation of your right to practice your religion," he said.
"It's a Navy chapel — a community thing," Anne-Marie Miley, a retired Navy pilot told The Union-Tribune. "We get to meet up with other retirees and active-duty personnel. The church out in town has a large congregation; it's much more personal to go on base."
On Sept. 8, Archbishop Timothy Broglio had noted that the "cost-savings" involved in ending the contracts amounted to $250,000, approximately 0.000156% of the Navy's budget.  "It is difficult to fathom how the First Amendment rights of the largest faith group in the Navy can be compromised for such an insignificant sum," said the archbishop. 
Senator Lindsey Graham (R-S.C.) had tweeted on Sept. 6, "Can't believe the @USNavy is considering canceling contracts for priests as a cost-cutting measure. If true, we need to look at canceling admirals, not priests."
The Catholic-based news group, LifeSiteNews, launched a petition to let the Navy and the president know "that this kind of discriminatory policy must be reversed."
"The Navy says the main reason for the impending cancellations is related to cost. But, this is a ridiculous assertion," stated the petition. "Going to Mass on Sunday is not just a optional thing for Catholics, it is an obligation. The Navy, therefore, has an obligation to its Catholic sailors, to facilitate attendance at Mass, especially as many sailors may not be able to travel off-base."
By Sept. 8, the Navy had reversed itself. In a statement, Rear Admiral Bette Bolivar, Commander, Navy Region Southwest, said, "As we make decisions about resourcing our religious ministry programs and align to the Navy's Strategic Plan for Religious Ministry, our top priority is to meet the religious needs of our active duty Sailors and their families."
"Contrary to previous discussions, this year we will continue contracted religious ministry programs and services similar to what we've had in place previously," she said. "We will also continue to assess how best to meet the needs of our Sailors and their families throughout the region."
A day later, Archbishop Broglio in a statement said, "I am deeply grateful to everyone who lent their support and encouragement to maintaining these programs.  In a particular way, I am grateful to the Navy Chief of Chaplains and his staff, as well as, Navy Southwest for their consideration and effort."
On Wednesday, CNS News asked the Navy's public affairs office if Navy Secretary Kenneth Braithwaite supported the decision to keep the Catholic priests on contract. As this story was posted, the Navy had not responded. 
During the two terms of President Barack Obama and Vice President Joe Biden, the Obama administration sought to restrict the religious freedom of Catholics in the military. See the links below to read more. 
DOD Refuses to Say If It Would Stop Priest from Giving Last Rites to Dying Serviceman—'We Are Currently Litigating' Matter
Obama Administration Tries to Lock Up Body of Christ
Priest Returns from China—Has Mass Blocked by U.S. Government