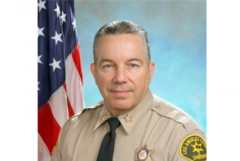 Although the Los Angeles City Council passed a COVID vaccine mandate for people entering restaurants, salons, and gyms, Los Angeles County Sheriff Alex Villanueva said he is not going to force his law enforcement employees to get the vaccine shot.
Reading and answering questions from his office, Sheriff Villanueva said on Thursday, "Are you forcing your officers to get the vaccine? As I said, no, I'm not forcing anyone to. The issue has become so politicized."
"There are entire groups of employees that are willing to be fired and laid off rather than get vaccinated," he added,  "so I don't want to be in a position to lose 5% to 10% of my workforce overnight on a vaccine mandate, while at the same time we're bare bones with the defunding effort. So, this is like the worst of two worlds right here."
Left-wing radicals, such as Black Lives Matter, and left-wing lawmakers have been pushing to defund police departments nationwide. See video below.