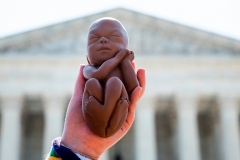 (CNSNews.com) - Following Wednesday's oral arguments in Dobbs v. Jackson Women's Health, a pivotal abortion case now before the U.S. Supreme Court, some pro-life advocates are hopeful that this time, a majority of the nine justices will finally let the people decide on the life-or-death matter.
Mike Farris, President of the Alliance Defending Freedom, met with CNS News to discuss the possible outcomes of this case and how it will affect the pro-life fight hereafter.
"I think there's two possibilities," Farris said.
One, that the court is going to say the viability standard is gone and it will send the case back for further development, and say they need a full factual record to decide a longer-term solution," Farris said.
"But I think there's a decent shot there's five judges who are willing to say it's time to reverse Roe v. Wade."
In order to overrule Roe, or simply do away with some of its provisions, at least five justices would need to uphold the Mississippi law, which bans most abortions after 15 weeks.
"I do think there's a very good chance that there are five justices that will take some form of affirmative action," Farris said.
And if the Mississippi law is upheld, Farris said he believes that at least a dozen pro-life states would implement similar laws:
"There's probably at least a dozen states that are very pro-life and will take as much ground toward the protection of life as they can take," Farris said.

"I think in about another three or four years, you'll have about another dozen states. So, we'd probably have about half the country protected to that degree relatively quickly."
The Mississippi law does contain exceptions for the mother's health and in instances of rape.
The current federal standard does not allow restrictions on abortion before 24 weeks of pregnancy--the time when a baby is considered "viable," or able to survive outside the womb.
However, since Roe was decided in 1973, ultrasound technology has advanced exponentially, giving the scientific community a better understanding of fetal development.
Dr. Grazie Christie, a senior fellow with The Catholic Association, spoke at a rally outside the Supreme Court on Wednesday. Christie described the features of a baby at 15 weeks' gestation, or "pre-viability."
"Every day, with perfect clarity, in stupendous detail, I witness the endearing humanity of my small patients: the lips that purse, the eyelids that flutter, the noses that itch and the fingers that scratch," Christie said. "I see the blood whooshing through the fetal heart, valves working furiously, as they will be working decades later when this baby boy or girl grows up and grows old, if they are fortunate enough to do so."
Christie explained how the Supreme Court's reliance on a scientific standard should force them to acknowledge the humanity of children in the womb.
"If the science was unclear in 1973, if the humanity of the fetus was obscured, if there was a veil preventing us from seeing our littlest brothers and sisters clearly, that veil has been pulled back," Grazie said.