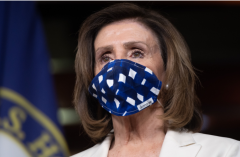 (CNS News) – As face masks become a societal norm, many people are speaking out against those who are choosing not to wear them, and some critics say that wearing a mask may determine how smart you are.
John Lundin, a self-described environmental activist and author, recently tweeted, "A mask is not a political statement. It's an IQ test." His tweet was met with many comments of support.
A recent Gallup/Knight Foundation poll that asked, "In the past 7 days, how often did you wear a mask or cloth face covering outside your home?" showed that 30% of high school graduates, 41% of college graduates and 46% of postgraduates always wear masks.
This poll also showed that 49% of Democrats always wear masks compared to the 26% of Republicans who do. 
Pavel Blagov, associate professor of psychology at Whitman College, went even further by doing a study to show that people who do not wear masks may have psychopathic or "Dark Triad" traits. Dark Triad refers to narcissism, Machiavellianism, and psychopathy.
"One potential implication from this research is that there may be a minority of people with particular personality styles (on the narcissism and psychopathy spectrum) that have a disproportionate impact on the pandemic by failing to protect themselves and others," Blagov said.
His study only gathered information about a select group of adults in the United States, so its findings don't accurately represent all people and age groups.
The Centers for Disease Control and Prevention (CDC) encourages people to wear face masks when they leave their home. They specifically urge people to wear cloth or fabric face masks in order to save surgical and N95 masks for health professionals.
The CDC says that the "cloth face covering may not protect the wearer, but it may keep the wearer from spreading the virus to others."
According to Live Science, experts say that fabric masks "might" help curb the spread of COVID-19, but that it is not confirmed if they actually make a noticeable difference.
May Chu, a professor of epidemiology at the Colorado School of Public Health, says that "homemade fabric masks are the least effective," because they only "impede 2% of airflow."
According to multiple tests, wearing a fabric mask does not prevent the user from getting the virus. It may not even prevent a person with COVID from infecting others.
A study published by Annals of Internal Medicine showed that cloth masks do not effectively stop the spread of the virus through airborne pathogens. In the study, people who had tested positive for COVID-19 were asked to cough into a petri dish—once without a mask, once with a surgical mask and once with a fabric mask.
Neither one of the masks kept the virus particles from being coughed into the petri dish. Despite these findings, the journal retracted the study soon after it was published.  
Wearing masks is even becoming a political statement as Nancy Pelosi urged the CDC to require all Americans to wear masks. Pelosi says this kind of ruling is "long overdue" and even went as far as to speculate that the CDC had not required masks so they would "not offend" President Trump.
Vice President Mike Pence, head of the coronavirus task force, says they believe people should wear masks but specified that people should wear masks "wherever social distancing is not possible."
Washington State Governor Jay Inslee (D) spoke to CBS of his disgust that President Donald Trump has not tweeted about the importance of masks, and instead has tweeted about monuments destroyed by radical protesters.
"Now we need a president who will care more about living Americans and less about dead Confederates," Inslee said.