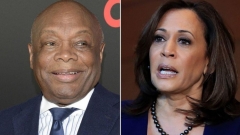 (CNS News) -- The former San Francisco mayor and Speaker of the California State Assembly, Willie Brown, urged Sen. Kamala Harris (D-Calif.) to "politely decline" a potential offer as Joe Biden's vice-presidential pick.
On Saturday, in a commentary published in the San Francisco Chronicle, Brown said that Sen. Harris should decline to be Joe Biden's vice-presidential pick, if he offers, and that instead Harris should seek a position as the attorney general. Brown argued that the position of vice president has no real power and that Harris would have more power as the attorney general. 
"The vice presidency is not the job she should go for — asking to be considered as attorney general in a Biden administration would be more like it," Brown wrote.
"True, the vice president does have an advantage the next time the party needs a new nominee, which in Biden's case could be four years from now," said Brown. "But in the meantime, the vice president has no real power and little chance to accomplish anything independent of the president."
"On the other hand, the attorney general has legitimate power," Brown argued. "From atop the Justice Department, the boss can make a real mark on everything from police reform to racial justice to prosecuting corporate misdeeds."
Brown added that, best of all, being attorney general would give Harris enough distance from the White House to still be a viable candidate for the top slot in 2024 or 2028.
Brown, 86, and Harris, 55, used to date in the 1990s, and Brown has admitted that he had an impact on her political career.  According to The Washington Times, the two started dating when Harris was 30 and Brown was 60.
Starting in 1994, the two started "showing up arm-in-arm at numerous high-profile functions, including Brown's lavish parties and celebrity galas. He has been separated but not divorced from his wife Blanche Vitero since the 1980s and has maintained a string of girlfriends over the years," reported The Times.
"Yes, I may have influenced her career by appointing her to two state commissions when I was Assembly Speaker," said Brown. "And I certainly helped with her first race for district attorney in San Francisco."
Joe Biden has said that he will pick a woman to be his vice-presidential pick. Sen. Harris reportedly has emerged as a finalist on a short list of female candidates. Recently, speculation increased that Harris may be Biden's choice after a photographer captured a photo of notes in Biden's hands