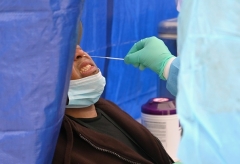 (CNSNews.com) – President Trump was derided on Twitter Thursday for saying that the high number of confirmed coronavirus cases in the United States was related to the significant increase in testing. But the data suggest that he is right.
Visiting a medical equipment distributor in Pennsylvania, Trump announced that the number of tests for the coronavirus causing COVID-19 had passed the ten million mark as of Wednesday afternoon.
"And don't forget," he said, "We have more cases than anybody in the world. But why? Because we do more testing. When you test, you have a case. When you test, you find something is wrong with people. If we didn't do any testing, we would have very few cases."
Pointing to media representatives, Trump added, "They don't want to write that. It's common sense."
In saying, "If we didn't do any testing, we would have very few cases," Trump clearly meant that if testing was not being carried out, then many cases would be going unconfirmed and unreported – not that they would not exist.
By the same token, in saying, "When you test, you have a case," he self-evidently did not mean that the testing causes the case.
But, critics decided that Trump meant that if testing wasn't being carried out, then people would not be getting sick.
Thus tweeted New York Times White House correspondent Michael Shear: "FACTCHECK –  @realDonaldTrump repeatedly says, as he did just now in Allentown, 'if we didn't do any testing we would have very few cases.' No. If we didn't do any testing, you would still have the same number of cases (if not more) – you just wouldn't know about them."
Jennifer Mercieca, who teaches in the Department of Communication at Texas A&M University, tweeted of Trump's claim, "Trump claims the test causes the 'case,' but it doesn't. The test does not cause the case, the test _detects_ the case that pre-exists the test. The virus causes the case. In other words: this is nonsense."
(Trump did not say that the test causes the case.)
In tracking an epidemic, the case-fatality rate is the number of deaths attributed to the disease divided by the number of confirmed cases of the disease.
In the current pandemic, national case-fatality statistics are not viewed as a particularly useful measure. That's because while the number of deaths is a generally (although not entirely) reliable data set, the number of confirmed cases reported depends largely on the amount of testing being carried out in a particular country, as well as the accuracy of the reporting.
In the developing world, some populous countries are reporting unrealistically low numbers of confirmed COVID-19 cases, but also have low rates of testing. For instance Nigeria (pop. 214 million) has reported fewer than 5,000 cases, but has only carried out 30,000 tests. Ethiopia (pop. 108 million) has reported just 263 cases, on the basis of 45,000 tests.
The Our World in Data project, which is compiling COVID-19 testing figures, explains the correlation:
"No country knows the total number of people infected with COVID-19. All we know is the infection status of those who have been tested. All those who have a lab-confirmed infection are counted as confirmed cases," it says.
"This means that the counts of confirmed cases depend on how much a country actually tests. Without testing there is no data."
In the United States, after a slow start, coronavirus testing picked up in early March. By the tenth of that month, a total of 10,000 had been carried out, according to figures compiled by the COVID Tracking Project.
By March 20, the number of tests carried out had climbed to more than 163,000, and by March 30 it had jumped significantly, passing the one million mark.
By April 10, more than 2.7 million tests had been conducted, and by April 20 the number had passed 4.1 million. Ten days later, more than 6.2 million tests had been carried out, and by May 10 the total was 8.9 million. As of Thursday, 10.3 million tests had been carried out.
Following a similar trajectory, the number of confirmed COVID-19 cases – as per the Johns Hopkins University real-time database – stood at just below 1,000 at March 10, climbed to 19,100 by March 20, and then jumped to 161,807 by March 30.
By April 10 the number of cases had risen to 526,396, by April 20 to 811,865, and by April 30 to 1,069,424. On May 10, more than 1.3 million cases had been reported, and as of Thursday the total stood at 1,417,774.