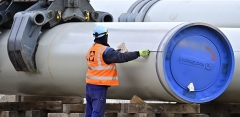 (Updated)
(CNSNews.com) – The U.S. Senate on New Year's Day easily overrode President Trump's veto of the National Defense Authorization Act, in the first such vote of his presidency. Following the 81-13 vote, the $740.5 billion defense policy bill will be enacted into law.
Among other things, the NDAA opens the door to new U.S. sanctions targeting a controversial gas pipeline from Russia to western Europe, setting the scene for potential tensions between the incoming administration and Germany, whose government prizes the Nord Stream 2 project.
After the House of Representatives voted 322-87 Monday to override the veto, Senate Majority Leader Mitch McConnell urged the Senate to do the same, noting that Congress has not once in six decades allowed differences to prevent it from passing an annual defense bill.
In Friday's vote, the 13 "no" votes came from five Democrats – Sens. Cory Booker (N.J.), Edward Markey (Mass.), Jeff Merkley (Ore.), Elizabeth Warren (Mass.), and Ron Wyden (Ore.) – seven Republicans – Sens. Mike Braun (Ind.), Tom Cotton (Ark.), Ted Cruz (Texas), Josh Hawley (Mo.), John Kennedy (La.), Mike Lee (Utah), and Rand Paul (Ky.) – and independent Bernie Sanders (Vt.).
Six senators did not vote, including the two Georgia Republicans fighting for their seats in next Tuesday's run-off, Sens. David Purdue and Kelly Loeffler.
When he vetoed the bill on December 23, Trump cited a number of reasons for doing so. They did not include the provision dealing with the Nord Stream 2 pipeline project, which he has vocally opposed.
Last year's NDAA included sanctions against foreign vessels and company executives involved in the project. The measures were later credited for bringing work on the pipeline to a halt. This time, the provisions go further, targeting companies that provide insurance cover and the certification necessary for completion of the project. Opposition in Congress has been bipartisan, with Sens. Ted Cruz (R-Texas) and Jeanne Shaheen (D-N.H.) spearheading the sanctions measures.
Developed by a Russian-European consortium led by Moscow's state-controlled gas giant Gazprom, the $11 billion project aims to pipe natural gas from Russia to Germany through a 760-mile pipeline under the Baltic Sea.
Work on the project, held up for most of the year because of the sanctions, resumed early this month. This week Reuters reported that the delayed pipelaying in German waters has now been completed, and that pipelaying in Danish waters would continue next month, with the project more than 90 percent complete.
Nord Stream 2 was originally due to go operational in the first half of 2020; now the aim is for late 2021. If completed, it is projected to double the annual supply of Russian gas through an existing pipeline, to 110 billion cubic meters.
The United States and some European nations – notably former communist countries in the east once under Moscow's domination – say the pipeline will make the E.U. too dependent on Russia, a country with a history of using its energy supplies as leverage in political or trade disputes.
The European Parliament has voted twice in opposition to Nord Stream 2 – in a 433-105 vote in December 2018 for a measure describing it as "a political project that poses a threat to European energy security and efforts to diversify European energy supplies," and again in a 402-163 vote in March 2019.
Trump has repeatedly criticized Germany for going ahead with the project, asking why the U.S. should be expected to help defend Germany from Russia while Germany does lucrative energy deals with the Kremlin. He cited the issue, along with the matter of NATO allies not meeting their defense spending obligations, in his reasoning for plans to reduce U.S. troop numbers in Germany.
(Trump's NDAA veto statement did include criticism of provisions seeking to restrict his authority to withdraw troops from Germany.)
Joe Biden has pledged to be tough on Russia. At the same time, he promises to improve ties with European allies like Germany – where a survey over the summer found that 70 percent of respondents thought relations would improve under a Biden presidency.
How new U.S. sanctions against a project cherished in Berlin would impact those efforts remains to be seen.
German Foreign Minister Heiko Maas has been warning for months that the end of a Trump presidency would not necessarily resolve the current tensions between the two countries.
In an interview with the DPA news agency on Monday, he was asked how Germany would respond to a U.S. demand under Biden to stop the pipeline project.
"There will continue to be topics on which we differ," Maas replied, adding that there was no point talking about "European sovereignty" if in future Germany and Europe would "only do everything that Washington wants."
"It is important that we have a common line on the central strategic and geopolitical issues, that we are on the same side of the playing field," Maas said.
"But the federal government will not change its stance on Nord Stream 2."