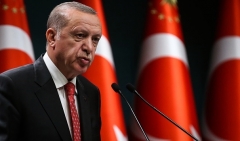 (CNSNews.com) – Turkey's Islamist president and state news agency at the weekend sought to fend off criticism over a controversial decision to reconvert the fabled Hagia Sophia into a mosque, by contrasting the number of churches and synagogues in Turkey to the number of mosques in Western countries.
"There are currently 435 churches and synagogues open for worship in our country," said President Recep Tayyip Erdogan. "This situation, which cannot be come across in other geographies, is the manifestation of our understanding which sees differences as a richness."
The Anadolu state news agency on Saturday published an "infographic" entitled, "Turkey boasts 5 times more places of worship for different faiths than the West."
But any per-capita disparities that Erdogan and the Anadolu agency attempted to highlight are a consequence of Turkey's history and significant demographic shifts a century ago, not a reflection of religious tolerance in today's Turkey.
Turkey's highest administrative court on Friday annulled a 1934 decree that designated the Hagia Sophia as a museum, paving the way for the historical landmark to be used once again as a mosque.
Minutes after the ruling, Erdogan, who pledged while campaigning for re-election to make the move, issued a decree declaring the building to be a mosque. He said Muslims will be praying there again as soon as July 24.
As the decision was announced, Muslims gathered outside the Hagia Sophia chanted "Allahu Akbar" (Allah is greater).
Completed in 537 AD, Hagia Sophia served as the seat of Byzantine Christendom for around 900 years before being seized by the Ottomans in 1453 and converted into a mosque. It held that status for 482 years, until Mustafa Kemal Ataturk's 1934 decree turned it into a museum.
Eighty-five years on, that move is being reversed.
The decision has drawn criticism from around the world, with Pope Francis, heads of the Eastern Orthodox Churches – including the Archdiocese of America – and numerous governments voicing dismay.
'Turkey is far ahead …'
In its infographic, the Anadolu agency said, "Though the reopening of the Hagia Sophia mosque for worship has ruffled feathers in the West, Turkey is far ahead in the number of places of worship for the different religions in the country."
Turkey has one place of worship for every 461 non-Muslims, Anadolu claimed – a figure it evidently obtained by dividing the number of Christians and Jews in Turkey (180,854 Christians and "about 20,000" Jews) by the 435 churches and mosques cited by Erdogan.
By comparison, the agency said, the United States has one mosque for every 1,600 Muslims, Britain has one mosque for every 1,707 Muslims, the Netherlands has one mosque for every 1,728 Muslims, Germany has one mosque for every 2,200 Muslims, France has one mosque for every 2,400 Muslims, and Russia has one mosque for every 2,875 Muslims.
But the comparison is a weak one: Turkey was among the birthplaces of the early Christian church and the seat of the Byzantine Empire for centuries, and naturally boasts many historic churches. None of the other six countries cited by the state news agency had comparable relationships with Islam.
And then there's the demographic issue: Christians and Jews today account for just 0.2 percent of Turkey's population of 82 million – a radically smaller proportion than a century ago.
In a 1906-7 census, non-Muslims accounted for about 19 percent of the population – 11 percent Greeks, seven percent Armenians, and one percent Jews.
Within just 20 years, that figure had dropped to just 2.5 percent, a decline that would continue through the 20th century: 1.5 percent by 1945, 0.8 percent by 1965, 0.3 percent by 1990, and 0.2 from around 2005 onwards, according to a 2008 study by Turkish academics for the journal Ethnic and Racial Studies.
Reasons for the drastic decline included:
--The killing of more than one million Armenian Christians in 1915, widely known as the Armenian Genocide.
--The Balkan Wars (1912-13), which cost Ottoman Turkey most of its non-Muslim-populated areas to Bulgaria, Greece, Montenegro and Serbia.
--Inflows of Muslim immigrants, and large population exchanges between Turkey and Bulgaria, and Turkey and Greece.
--Anti-Jewish pogroms in 1934 that fueled Jewish emigration.
--The imposition of a wealth tax in 1942 that discriminated against non-Muslims and converts from Islam.
Among the many to react negatively to Turkey's decision was U.S. Commission on International Religious Freedom (USCIRF) commissioner Nury Turkel, himself a Muslim.
"It is regrettable that the Turkish government has proceeded with these steps, and with such disregard for the feelings of its own religious minority communities," he said.
"This decision comes at a time of increased fear and insecurity due to recent attacks on churches and other threats against religious and ethnic minorities and will only add to their sense of marginalization."
The USCIRF, an independent statutory watchdog, has long recommended that the State Department place Turkey on a special watch list for religious freedom violations, without success.
The commission has at times been divided over Turkey. In 2012, it split 5-4 over a call for "country of particular concern" designation – reversed for the worst violators – a recommendation which the Obama State Department tried to prevent.