(CNSNews.com) – In a sometimes rousing speech marking the centenary of the Chinese Communist Party, Xi Jinping declared on Thursday that China would never allow itself to be bullied by any foreign force.
Anyone who tried to do so, he warned, would "find themselves on a collision course with a Great Wall of steel forged by over 1.4 billion Chinese people."
The words from the Chinese president and CCP general secretary drew an enthusiastic response from the mass gathering in Beijing's Tiananmen Square, as did others that touched on nationalistic themes, such as Xi's reiteration of the CCP's "unshakeable commitment" to secure Taiwan's incorporation into the People's Republic of China.
Xi said the CCP, which was founded 100 years ago and has ruled mainland China for more than seven decades, showed that "Marxism works" and called on the party to continue to "adapt Marxism to the Chinese context" and "uphold and develop socialism with Chinese characteristics."
He said the CCP, with 95 million members, was the biggest ruling party in the world and has become hugely influential globally. (India's ruling Bharatiya Janata Party claims more than 180 million members.)
"Any attempt to divide the party from the Chinese people or to set the people against the party is bound to fail."
As China continues along its historic path, he said, it was "eager to learn what lessons we can from the achievements of other cultures and welcomes helpful suggestions and constructive criticism."
"We will not, however, accept sanctimonious preaching from those who feel they have the right to lecture us."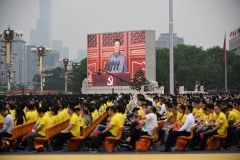 Xi did not elaborate, but Chinese diplomats recently have initiated angry exchanges at international forums over Western censure of its human rights record, especially in the Xinjiang region, where the U.S. government accuses if of genocide against minority Muslims.
Chinese foreign ministry spokespeople meanwhile, have gone on the offensive as they confront U.S. and other critics over issues ranging from Beijing's throttling of Hong Kong's cherished democracy to its costly mishandling of the coronavirus outbreak.
Arguably the biggest applause line in the televised speech came in response to Xi's remarks about "bullying."
China, he said, was a proud and self-confident nation that has "never bullied, oppressed or subjugated the people of any other country, and we never will."
"By the same token, we will never allow any foreign force to bully, oppress or subjugate us," he said. "Anyone who attempts to do so will find themselves on a collision course with a Great Wall of steel forged by over 1.4 billion Chinese people."
On Taiwan, the U.S.-supported island democracy which Beijing views as a rebel province, Xi said that "resolving the Taiwan question and realizing China's complete reunification is a historic mission and unshakeable commitment of the Communist Party of China."
"We must take resolute action to utterly defeat any attempt towards Taiwan independence," he said. "No-one should underestimate the resolve, the will and the ability of the Chinese people to defend their national sovereignty and territorial integrity."
Xi spoke in Chinese; his words were translated by the state-owned China Global Television Network.
 
See also:
US Resolution 'Looks Forward to the Day That the Chinese Communist Party No Longer Exists' (June. 30, 2021)