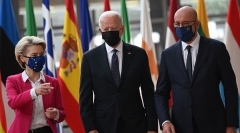 (CNSNews.com) – As President Biden met with European Union leaders ahead of his encounter with Russian President Vladimir Putin on Wednesday, the controversial issue of the Nord Stream 2 pipeline appeared to be off the agenda, in public at least.
The Russia-to-Germany natural gas pipeline project was not mentioned by Biden, European Council president Charles Michel, or European Commission president Ursula von der Leyen in their comments before Tuesday's U.S.-E.U. summit, in Biden's televised remarks at the meeting, or at a post-summit press conference by the two E.U. leaders.
Nord Stream 2 was also not referred to in the joint statement issued after the U.S.-EU summit.
The statement did say that the U.S. and E.U. were "united in our principled approach towards Russia and we are ready to respond decisively to its repeating pattern of negative behavior and harmful activities."
The U.S. and E.U. also condemned "Russia's continued actions to undermine Ukraine's and Georgia's sovereignty, territorial integrity, and independence," and said they plan to establish a U.S.-EU "high-level dialogue" on Russia, to "coordinate our policies and actions."
Germany and Russia assert that the new pipeline running between them under the Baltic Sea is a purely commercial enterprise and should not be politicized. But critics have warned for years that the $11 billion project could enable Moscow to bypass Ukraine and other countries that earn crucial transit fees on Russian energy supplies currently crossing their territory.
Russia is already the E.U.'s biggest natural gas supplier, and governments in eastern Europe are especially leery of a project they worry could make the bloc even more dependent on Russian energy supplies. The European Parliament has voted three times, by sizeable majorities, for resolutions opposing the pipeline and calling for its scrapping.
On Tuesday, the Polish parliament adopted a resolution by a 452-1 vote, urging E.U. countries, particularly Germany, to "withdraw any support for the completion of the Nord Stream 2 gas pipeline project and to take steps aimed at the immediate and effective halting of its construction."
The measure also called on the U.S. to maintain and increase sanctions on entities involved in the project.
As divisive as Nord Stream has been within the E.U., it has also fueled tensions between Germany and the United States, with three consecutive U.S. administrations opposing the plan.
But the Biden administration's decision last month to waive sanctions against several of the key actors – including Nord Stream 2 AG, a consortium led by the Russian state-owned Gazprom – drew sharp criticism from Republicans, as well as from some Democrats.
Like its predecessors, the administration has characterized the pipeline as a geopolitical risk. But it said it was waiving the sanctions, which are required under U.S. legislation passed with strong bipartisan support, on the grounds that the project was almost completed, and because of the important U.S.-Germany relationship.
"To go ahead and impose sanctions now, I think, would be counterproductive now in terms of our European relations," Biden said shortly after Secretary of State Antony Blinken announced the waiver decision.
The Washington Post reported on Tuesday that Blinken and senior State Department officials had pressed for more sanctions to target the pipeline, but that Biden and "top aides on the National Security Council" had disagreed, "arguing that the move would inflame relations with Germany, a key ally that views attempts to block the pipeline as a violation of its sovereignty."
'Stop Putin's pipeline project once and for all'
Ahead of the Biden-Putin summit, House Minority Leader Kevin McCarthy (R-Calif.) said Tuesday the meeting offered an opportunity to hold Russia accountable.
"To show Russia we're serious, President Biden should start with sanctioning Putin's Nord Stream 2 pipeline," he said. "After repeated attacks against the United States and our allies, why should Russia be given free rein to expand their oil and natural gas exports at our expense?"
House Foreign Affairs Committee ranking member Rep. Michael McCaul (R-Texas) said, "if gas is permitted to flow through the Nord Stream 2 pipeline, it will harm Ukraine, empower the Kremlin to spread its destabilizing behavior further into Europe, and fill Putin's coffers."
"This is clearly not in the U.S. national interest," he said. "The Biden administration must revoke these waivers immediately and fully implement the bipartisan sanctions Congress mandated to stop Putin's pipeline project once and for all."
Blinken told lawmakers last week the U.S. was now discussing with Germany ways to limit the impact of the soon-to-be-completed pipeline.
"We want to make sure that Europeans take the necessary steps to protect, to mitigate, to deal with any of the adverse consequences of gas going through this pipeline," he said during a Senate Appropriations Committee hearing.
Ukrainian President Volodymyr Zelensky, whose country has experienced Moscow's past leverage of its energy supplies to Europe for political purposes, expressed dismay at the sanctions waiver.
He said last week he hoped to meet with Biden before the Biden-Putin summit in a bid to persuade the U.S. president to stop the project – which he said the U.S. could do if it wanted to.
Zelensky did not secure a meeting before Biden's Geneva meeting with Putin, although Biden did speak to him by phone, and invited him to the White House next month.