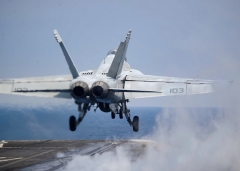 Berlin (CNSNews.com) – Germany's postponement of a decision on whether to purchase nuclear-capable F/A-18 fighter jets from the United States is raising questions about its commitment to its responsibilities as a NATO member.
Opposition by the center-left Social Democrats (SPD) has delayed adoption of a recent recommendation by the German military to purchase the jets from the U.S., in order to maintain the capacity to deploy nuclear weapons in line with NATO obligations.
As a result, the decision looks likely to be set aside until 2021, which would leave it in the hands of a new government. Federal elections are due in the summer of fall of next year.
The deal, reportedly discussed between German Defense Minister Annegret Kramp-Karrenbauer and Defense Secretary Mark Esper but subject to parliamentary approval, would see Germany purchase 30 F/A-18 Super Hornets, along with 15 EA-18G Growlers (specialized electronic warfare versions of F/A-18), anticipated to be a multi-billion dollar deal.
The Support of Nuclear Operations With Conventional Air Tactics (SNOWCAT) agreement requires countries in Europe that don't possess nuclear weapons of their own to host such arms from other members on their territory and maintain the means to deploy them.
Germany is currently thought to host some 20 U.S. B61 nuclear bombs at Büchel Air Base, in the western state of Rhineland-Palatinate.
SPD chairman Rolf Mützenich and co-chair Norbert Walter Borjans at the weekend called on Germany to withdraw from the nuclear-sharing arrangement altogether.
"The time has come for Germany to rule out a future stationing," Mützenich told Der Tagesspiegel on Sunday. "Nuclear weapons on German territory do not heighten our security, just the opposite."
But Chancellor Angela Merkel's government, led by the center-right Christian Democrats (CDU), rejected the calls.
"There are some nations that continue to regard nuclear weapons as a means of military conflict, and as long as this is the case, we believe that there is still a need to maintain nuclear deterrence," said government spokesperson Stephen Seibert.
The delay on a F/A-18 decision has nevertheless sparked speculation over Germany's capacity to deliver on its NATO obligations in future.
Justyna Gotkowska, a security and defense policy expert at the Centre for Eastern Studies (OSW) in Poland said in an op-ed Tuesday that the failure to prioritize new dual-purpose aircraft would result in Germany gradually withdrawing from the NATO program.
"In the current parliamentary term, the SPD will block the process of preparing the purchase of F/A-18 [aircraft until] after the elections to the Bundestag in 2021. The finalization of the transaction will be even more controversial then."
Gotkowska said a possible future coalition comprising the SPD, Greens and/or Left Party would be unlikely to finalize the transaction.
Even in the event of a CDU/Greens coalition after next year's election, "the purchase of new aircraft is not completely excluded, but it will be hampered by deep divisions within the Green Party regarding the approach to nuclear weapons," she said.
The greatest chances of acquiring new aircraft and extending Germany's participation in nuclear sharing would appear to be via a coalition between the CDU and Liberal Democrats (FDP), said Gotkowska.
However, the FDP is currently polling poorly, so would be a less likely coalition partner for the CDU.
Although the government remains formally committed to the SNOWCAT agreement, NATO secretary-general Jens Stoltenberg in an op-ed Monday reminded allies that the agreement was a responsibility "shared among allies."
"NATO's nuclear sharing is a multilateral arrangement that ensures the benefits, responsibilities and risks of nuclear deterrence are shared among allies," Stoltenberg wrote.
"Politically, this is significant. It means that participating allies, like Germany, make joint decisions on nuclear policy and planning, and maintain appropriate equipment," he said. "All allies have agreed that as long as nuclear weapons exist, NATO will remain a nuclear alliance."
Stoltenberg also contended that while NATO views its nuclear deterrent "primarily as a political tool," Russia by contrast has "integrated its nuclear arsenal into its military strategy." 
German political scientist Peter Rudolf questioned whether the U.S. bombs still hold any practical significance.
"The American nuclear weapons stationed in Germany and some other European countries today have primarily a political-symbolic meaning," he told the German news service Vorwaerts. "From a military-strategic point of view, their importance is negligible."
"We don't know whether nuclear deterrence works or not," Rudolf said, adding that it was only a matter of "luck" that nuclear weapons had not been used during the Cold War as a result of "miscalculations and errors."