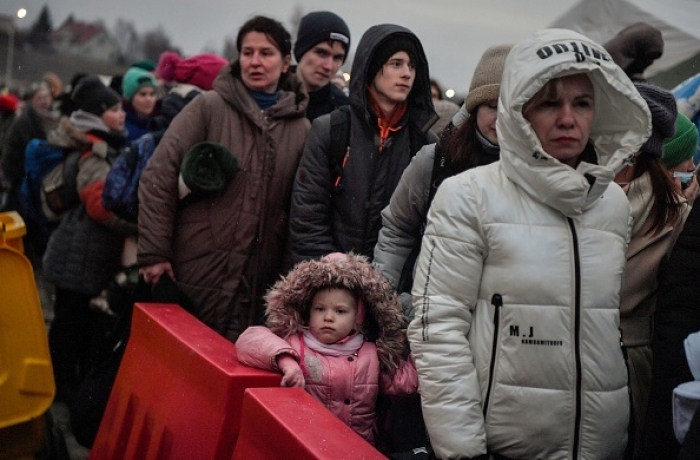 (CNSNews.com) – More than two million people have fled Ukraine in what has swifly become Europe's "fastest growing refugee crisis" since the Second World War.
Within a span of just two weeks since Russian forces invaded their country, 2,155,271 people have fled the destruction in Ukraine, the majority women and children, according to United Nations data as of Tuesday.
By comparison, the 2015 migrant crisis stemming from the Syrian civil war saw 1.3 million people flood into Europe over the span of a year – at the time, the most in a single year since the end of World War II.
The office of the U.N. high commissioner for refugees said on Tuesday it may soon need to revise its March 1 estimate that more than four million people could flee Ukraine if President Vladimir Putin's war continues.
The U.S. government has estimated the crisis will produce up to five million refugees, and one German migration researcher, Gerald Knaus, believes the total could climb to ten million.
"If even a quarter of the people in Ukraine leave the country, then that would be ten million people," he said in an interview with ZDF on Saturday. "Unfortunately, that's not an unrealistic expectation unless Putin is stopped."
In contrast to the 2015 crisis, which sparked intense political debate and disagreement among European Union member-states over the admission and "distribution" of migrants, E.U. members  now appear unanimous in their willingness to take in Ukrainians.
Poland, which refused to take part in E.U. efforts to resettle asylum seekers in 2015, has now witnessed 1,294,903 people cross its border from Ukraine, according to the U.N. data.
Two weeks ago, deputy interior minister Maciej Wsik said the country was ready to take up to a million refugees.
On Monday, the government said it was planning an eight billion zloty ($1.85 billion) fund for those fleeing Ukraine, for supplies but also to facilitate access to the labour market, social benefits, and education.
Hungary, another neighboring country that rejected past E.U. efforts to reallocate asylum seekers, similarly announced readiness to take in Ukrainians, and has currently taken in 203,222 refugees according to U.N. data.
Germany, Sweden, Spain, and Ireland are among other E.U. members also taking in Ukrainians fleeing the war.
Germany's interior ministry said on Wednesday it had registered 80,035 people from Ukraine – almost 20,000 more than reported two days earlier. Most have entered the country via Poland.
Finance Minister Christian Lindner told local media on Wednesday that taking in the Ukrainians would be easier than the situation during the 2015 crisis.
"It is to be expected that the refugees from Ukraine can be integrated quickly and well due to their [academic or professional] qualifications," Lindner said. "As things stand today, the social consequences will be different than in the refugee crisis of 2015."
Spain's government says it has 12,000 places available for Ukrainian refugees, while Ireland's justice minister said there was "no cap" on the number that will be accommodated, adding that Ireland had taken in more than 2,500 Ukrainians so far.
Sweden's immigration minister said around 2,000 refugees arrived in the country on Tuesday alone, doubling the earlier number.
Easing the challenge somewhat, the bloc for the first time executed a "temporary protection directive" which allows any Ukrainian citizen or long term resident to stay in the E.U. for a year without having to apply for a visa or for asylum, permitting them to work, access healthcare and schooling for children.
Developed in 2001 in the aftermath of the Balkan wars of the 1990s, the directive aims to prevent asylum authorities from being overburdened. Notably, it was not implemented during the 2015 migration crisis.
The Yugoslav wars sparked one of the worst refugee crises in European history, with around 2.4 million refugees and a further two million people displaced between 1991-2000.
Human Rights Watch praised the E.U. for acting quickly to grant temporary protection to Ukrainians and long-term foreing residents, but said it was "hard to miss the stark contrast" with Europe's "harsh response to  people fleeing other wars and crises."
"Even as we applaud the generosity being shown people fleeing Ukraine, we have to question why the E.U. didn't use the 2001 directive in 2015, when more than one million Syrians, Afghans, and Iraqis arrived at European shores," HRW associate director for Europe and Central Asia, Judith Sunderland, wrote in an Euobserver op-ed.
"Geopolitical considerations and proximity do not fully capture or explain the E.U.'s generous response to Ukrainians and the treatment reserved for others from outside Europe," Sunderland argued. "It's now time for the EU to reckon with and change the ways in which its migration and asylum policies disproportionately penalize Black and brown people."