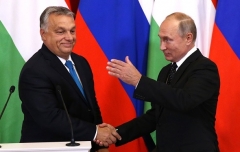 Moscow (CNSNews.com) – A new natural gas contract between Russia and Hungary has sparked protests from Ukraine, which says that the agreement will undermine its national security.
An influential Russian lawmaker said the deal with Hungary, along with progress in the controversial Nord Stream 2 pipeline between Russia and Germany, was evidence that a preoccupied West was starting to distance itself from Ukraine.
Moscow and Budapest last week signed a 15-year deal under which Russian state energy giant Gazprom will supply Hungary with 4.5 billion cubic meters annually, via new pipeline routes in Serbia and Austria. Previously, Russia had delivered its gas to Hungary almost exclusively through Ukraine.
Ukraine's foreign ministry said in response it would file a complaint about the deal with the European Commission, and its Hungarian counterpart in turn accused Ukraine of launching a "serious attack on Hungary's sovereignty."  Both governments summoned the other's ambassador to make its position known.
On Friday, the head of Ukrainian state energy company Naftogaz, appealed to the United States and Germany to impose new sanctions against Gazprom, arguing that the deal represented an attempt by the Kremlin to use "gas as a weapon" against Ukraine.
Hungarian Prime Minister Viktor Orbán said in a radio interview the same day that while he respects Ukraine, "in regards to the matter of gas, we have to consider the interests of Hungarians rather than Ukrainians."
Gazprom began supplying gas to Hungary through the Serbian route early on Friday morning.
Since the collapse of the Soviet Union in 1991, Ukraine has been a key transit route for Russian gas headed to the European market.
Despite the chill in relations over Moscow's annexation of Crimea in 2014 and ongoing aid to separatists in eastern Ukraine, Kyiv continues to earn between $2-3 billion annually in transit fees, and Ukrainian officials say their country's role as a transit route helps to guarantee its security.
In recent years, however, Russia began establishing alternative routes for delivering its gas to Europe. In January 2020, Gazprom launched TurkStream, a 580-mile gas pipeline under the Black Sea that allows the company to deliver its gas to Turkey and customers in the Balkans.
Early last month, Russia announced it had finally completed work on Nord Stream 2, which is expected to double Russian gas exports to Germany. The project's finish date was pushed back several times due to U.S. sanctions.
On Monday Nord Stream's operating company said it has begun to fill the pipeline with gas for tests.
Some Russian lawmakers have touted Nord Stream 2 and the Russian-Hungarian gas deal as evidence that the West has begun distancing itself from Ukraine.
"Gradually, not only gas, but also European policy is starting to 'bypass' Ukraine," Senator Alexei Pushkov, a member of the Federation Council's foreign affairs committee, wrote in the Telegram messaging app.
"This is natural, he said. "In the modern world, a medium-sized regional topic cannot be in the spotlight for a long time."
Puhskov argued that Western backing for Ukraine would only decline over time, as the United States shifts its attention to competition with China, and the European Union become increasingly focused on dealing with its internal affairs.
"The support of these countries for the so-called integrity of Ukraine has turned into a political ritual," he wrote. "But, like at a funeral, after the ritual, everyone disperses and goes about their business. Ukraine is slowly, but surely exiting from the periphery of world politics."
Some Russian lawmakers have warned that Moscow is unlikely to extend its current contract to transit gas through Ukraine when it expires in 2024.
"All 30 years of pumping gas through Ukraine, there are only problems: either with the price, or with delayed payments, or some other conditions arise," Senator Vladimir Dzharbov, deputy chairman of the Federation Council's foreign affairs committee, told Russian news website Lenta.ru. 
"Who needs them? Let the Ukrainian authorities do something on their own, and not cash in on the pipe that the Soviet government left them as a legacy 30 years ago due to their geographical location."
Even before the Gazprom gas deal, relations between Kyiv and Budapest were strained due to a 2017 Ukrainian law that restricted the use of minority languages in the classroom. Hungary said the legislation infringed on the rights of the 150,000-strong Hungarian minority in western Ukraine. Since then, Budapest has repeatedly vowed to block Ukraine's aspirations to join NATO or the European Union unless the language law is overturned.